IP Unlock is a proposed system based on Fei Turbo to allow Interest Protocol to safely lend its USDC reserves while maintaining the same level of liquidity.
The solution is a borrow relationship. "Unlocking" our USDC requires a few changes to the current vault system.
Borrowing
The "Unlock" vault allows overcollateralized borrowing of protocol-owned USDC. However, the borrowed assets are not moved to the borrowers wallet like a USDi vault. Instead, the borrowed assets are deposited into a protocol-chosen yield venue (Compound, Aave, etc.). Instead of charging an interest rate to borrow, Interest Protocol can collect a share of the profits from the external loan.
Liquidation
Just like a normal vault, it is possible for an "unlock" vault to become undercollateralized. In order to prevent this, we can utilize the standard IP liquidation mechanism (considering a debt of 1 USDC as $1). Due to the borrow relationship, losses in a yield venue must be repaid if a vault owner wants to reclaim their collateral.
Liquidity Constraints
To ensure USDi maintains a similar level of redeemability with USDC as before, a "forced repay" function must exist to draw USDC out of the yield venue back into the PSM. This mechanism can be similar to LUSD's redemption mechanism, where vaults with the lowest collateralization are targeted for forced repayment first. Forced repay can be called when there is insufficient PSM USDC to fulfill a redemption. For the sake of informing the USDC reserve ratio, yield venue assets should be considered 1:1 to USDC as they can be liquidated immediately if redemptions require.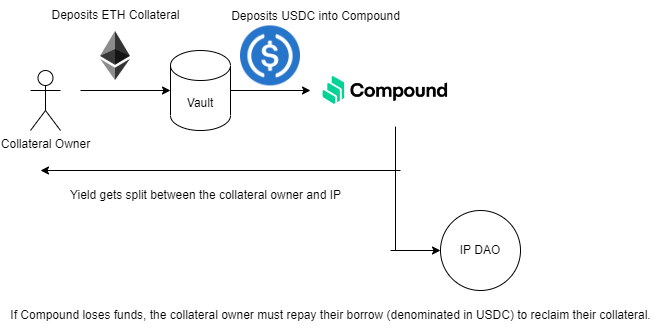 Important questions for IP Unlock are:
How should development of this mechanism be funded?
What share should the IP DAO take?
What yield venues are appropriate to onboard?